cocktails
RECIPES BY HOUSE OF ELRICK

There is a House of Elrick cocktail for any occasion. Here you will find an array of enlightened cocktail recipes. We have recipes for every skill level, a multitude of occasions, and extraordinary flavours to satisfy any palate.
---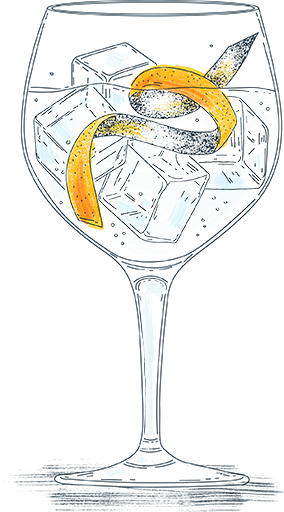 GIN
THE PERFECT SERVE
We recommend to enjoy this unique distilled gin using a deep wine glass that will retain the aromas and open the smells of the botanicals. Our gin is sharp and dry, but with the sweetness of the orange zest will accent the aroma well and bring out the rose and peppercorns.
INGREDIENTS

25 TO 50ML
HOUSE OF ELRICK GIN

GARNISH

ZEST OF AN ORANGE,
SERVED AS A HELIX (NO STRAW)
TONIC

TOPPED WITH YOUR
PREFERRED TONIC

SERVE IN

LARGE WINE GLASS, RIMMED WITH THE ZEST OF AN ORANGE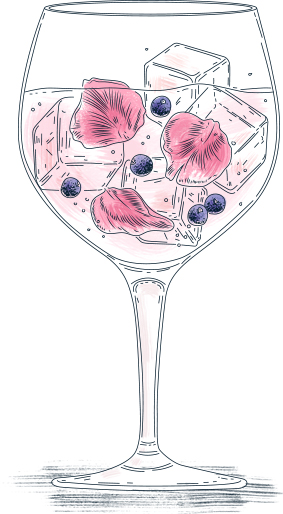 GIN
ELRICK SUMMER NIGHTS DREAM
This drink is smooth, fruity, long and cold – exactly what you want from a summery cocktail whilst sitting in the garden or on the terrace. The rose and Coquelicot liqueurs sweetly balance the dryness of the Sauvignon Blanc. The rose water sweetens and lengthens the drink making a satisfying, full-flavoured, summer quencher.
INGREDIENTS

35ML HOUSE OF ELRICK GIN
ROSE PETALS,
JUNIPER BERRIES
15ML ROSE LIQUEUR
12.5ML COQUELICOT LIQUEUR
12.5ML SAUVIGNON BLANC
20ML FRESH LEMON JUICE
DASH ROSE WATER

GARNISH

MINT SPRIG, ROSE PETALS,
JUNIPER BERRIES
TONIC

TOPPED WITH YOUR
PREFERRED TONIC

SERVE IN

HIGHBALL | WINE GLASS |
HURRICANE GLASS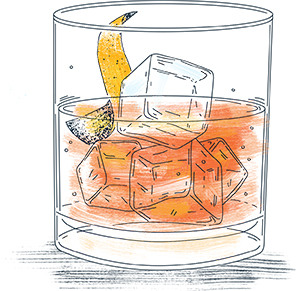 GIN
THE LAIRD'S NEGRONI
A classic cocktail, carefully blending House of Elrick gin, Campari, and La Quintinye Vermouth Royal together over ice with a grated zest of orange. Smoke a low ball glass with cinnamon, and strain the mixture onto an ice sphere or oversized ice cube. Garnish with fresh heather wrapped in a twist of orange zest.

INGREDIENTS

30ML HOUSE OF ELRICK GIN
25ML CAMPARI
25ML LA QUINTINYE VERMOUTH ROYAL
GARNISH

FRESH HEATHER WRAPPED
WITH ORANGE ZEST
CINNAMON STICK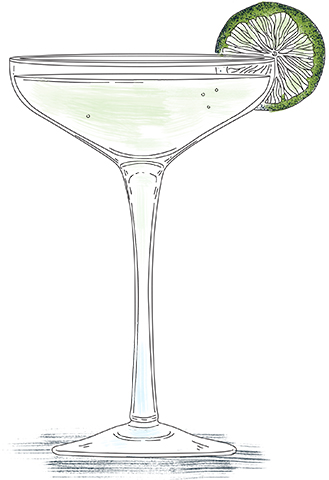 GIN
THE GRACIOUS GARDENER'S GIMLET
Whilst this historic drink was created in order to stave scurvy for our sea going heroes in the Navy, we continue to enjoy this classic, delicious, sour drink. Fall in love with this simple, refreshing classic by adding House of Elrick gin and Rose Lime Cordial into a mixing glass or shaker full of ice. Shake and strain into a chilled cocktail glass.

INGREDIENTS

60ML HOUSE OF ELRICK GIN
15ML ROSES LIME CORDIAL
GARNISH

FRESH LIME OR LEMON WEDGE
SERVE IN

MARTINI GLASS, CHILLED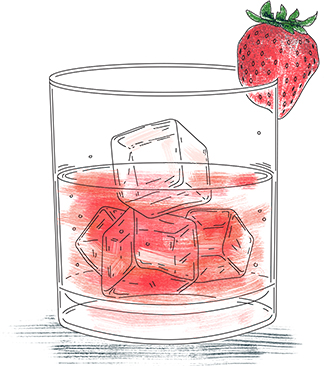 GIN
ELRICK'S SOUR
Find gin sours too dry or too sour for you? Dare to challenge the norm. Add strawberry to the cocktail itself, sweetening and complementing the flavours of the gin. Replace the traditional Angostura bitters with juniper bitters to give the cocktail a dryness and complement the other botanicals in House of Elrick gin.

INGREDIENTS

60ML HOUSE OF ELRICK GIN
25ML FRESH LEMON JUICE
12.5ML SUGAR SYRUP
12.5 EGG WHITE
QUARTERED STRAWBERRY
2 DASHES JUNIPER BITTERS
GARNISH

STRAWBERRY AND PEPPER
SERVE IN

IN ROCKS GLASS WITH BLOCK ICE