Welcome to the House of Elrick
Nestled in the lowlands of Aberdeenshire, the House of Elrick estate is a home rich in history. Built at the height of the Scottish Enlightenment period in 1720, our home hosted lively discussions from some of the most respected creative, philosophical and scientific minds of the time. Today we work to restore her walls and welcome you to join us once again.

At House of Elrick we celebrate the minds of the enlightened. Those who dare to dream and challenge the norm with thinking that will open doors to a better tomorrow. Please join us for a drink.



STUART INGRAM | OWNER & CHIEF EXECUTIVE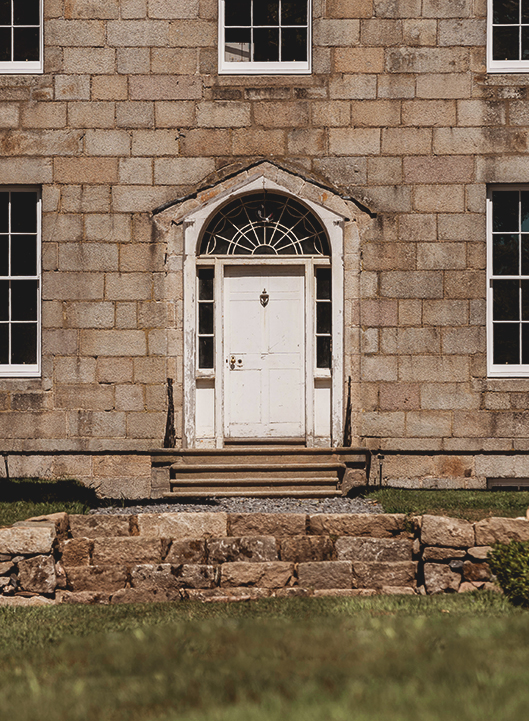 Chapter One
Our History
The House of Elrick Estate has only passed hands five times in over 300 years. With so many romanticised stories being told, delve into the history of this unique and beautiful 18th century period estate property.
Well-travelled and curious, members of the household often visited Florence Italy, a country already swept by European Enlightenment thinking. Explorers returned with tales of new science and philosophical learnings that echoed the writings of many of the leading Scottish Enlightened thinkers of the time.
On return to the estate the family sought to host company that would continue the philosophical, scientific and creative discussion of the time, encouraging the expansion of free-thinking over blind faith and thus saw a number of creative and maverick individuals pass through their doors.
Later the house was to be visited by Bonnie Prince Charlie who gifted the Jacobite rose to the estate. It can now be found growing in the beautiful walled garden at the heart of the grounds.
Other acclaimed visitor to the house was Eleanor Vere Boyle, renowed for illustrating stories for Hans Christian Andersen and Alfred Lord Tennyson, as well as writing poetry about Elrick.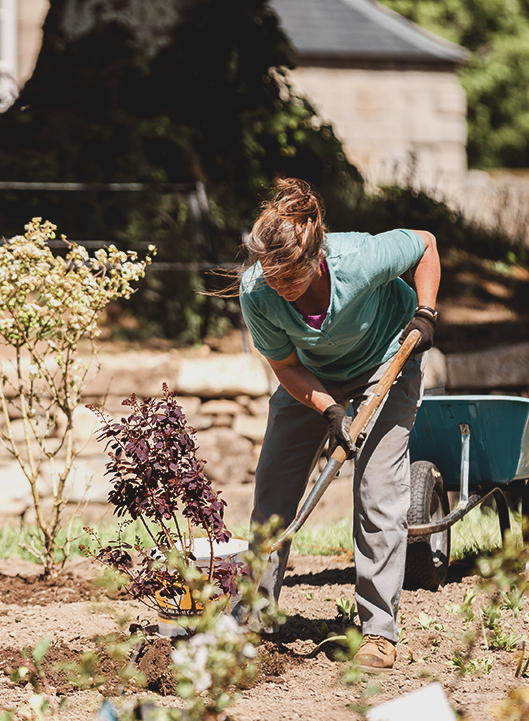 Chapter Two
RESTORING THE ESTATE
The wealth of history and character of Elrick House, dating back to 1720, is something that inspired Stuart Ingram to restore the Elrick Estate to its former glory.
Carrying out this labour of love has seen Stuart realise his dream of restoring the dilapidated old house. However, this has been challenging and not without its difficulties.
The 300-year-old house, which had not been occupied for many years, needed a complete restoration. Much of the walled garden has needed to be completely rebuilt in many places, due to neglect and weather damage over the years.
This renovation has involved a complicated council planning application processes, as well as working closely alongside Scottish Heritage and the Scottish Forestry Commission. However, working with these organisations has been integral to the success of the project.
Taking on such a big project whilst running your own gin distillery is no mean feat, but Stuart's dedication and absolute passion for this project is what has kept him going.
There are many people to thank for making this all happen... the local tradespeople of Newmachar and the surrounding area for bringing this period property back to its former glory, Ara the gardener for landscaping these beautiful gardens, the Stonemason for restoring the majestic walled garden, and Stuart's close family and friends have all helped this dream become a reality.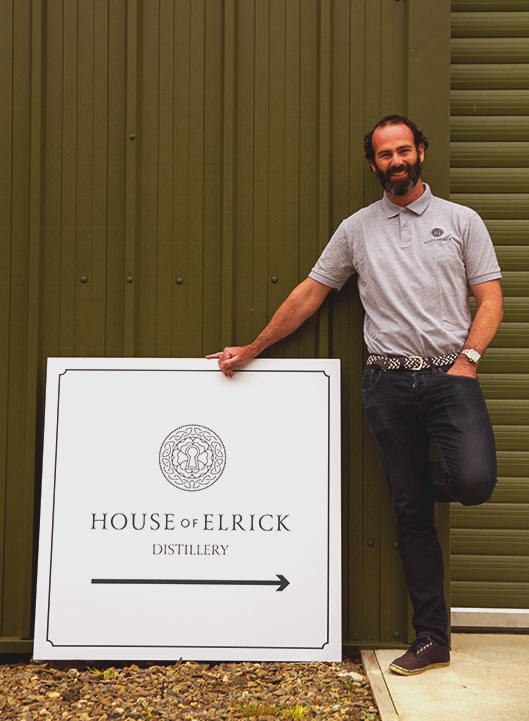 Chapter Three
THE DISTILLERY
Nestled within the secluded grounds of Elrick Estate, the Distillery has been operational since 2018. Every design aspect of the distillery has been carefully thought through and built with further expansion in mind.
At the heart of the distillery sits our 500L Copper Pot Still 'Charlie', which has been designed and manufactured to our own specification, sourced locally from Speyside Copper Works based in Elgin and LH Stainless based in Keith.
As well as using traditional methods, the Distillery also houses a state-of-the-art semi-automatic bottling line, complete with a batch code laser so that every bottle produced has full traceability.
We strongly believe in quality over quantity, that is why we only produced 600 bottles per batch to maintain absolute quality and integrity of our spirit.
We are consistently challenging ourselves. We ensure that our products are made to the upmost quality and are sourced responsibly and sustainably.
This meticulous approach is used across our business from the freshest purified water to the handpicked botanicals, to the finished packed product leaving our Distillery.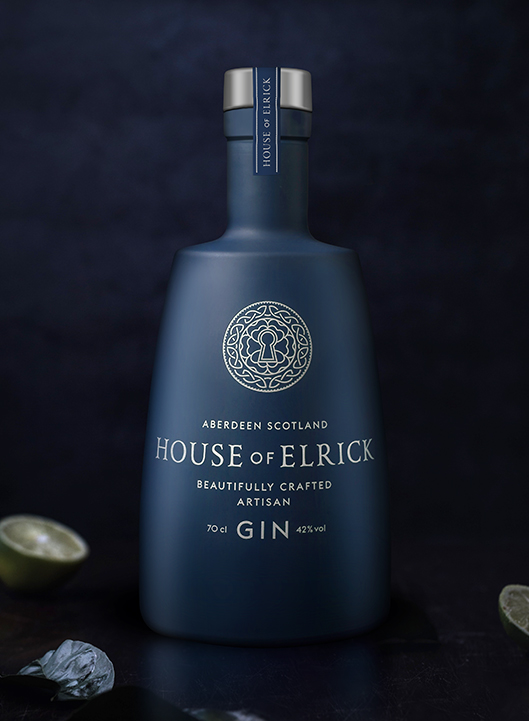 Chapter four
OUR SPIRITS
We strongly believe in championing and supporting the individual. We work with independent farmers and suppliers who provide us with the ingredients and processes that make our small batch spirit's unique and responsibly sourced.
Our premium small batch artisan gin is distilled with 9 carefully selected hand-picked botanicals, to ensure it is refreshing as is it aromatic. A compliment of juniper, coriander seeds, angelica root and citrus peel, built around a core of heather, pink peppercorns, sweet fennel and rose petals results in a bold taste profile, which is what makes our gin so special.
Along with its awe-inspiring and dangerous beauty, the sprawling Aberdeenshire coastline offered a haven of caves and nooks, turning it into a Smuggler's paradise. Inspired by those who dared to dream bigger, House of Elrick has crafted a Scottish range of Rums.
Using a Caribbean sourced rum, we have created three individual rum liquors, Dark Rum, Spiced Rum and White Rum with Mango.
We have selected the finest range of spices for our rums, including ginger, cinnamon, nutmeg, black pepper, caraway, cubeb as well as sourcing the finest blood orange and mango flavourings.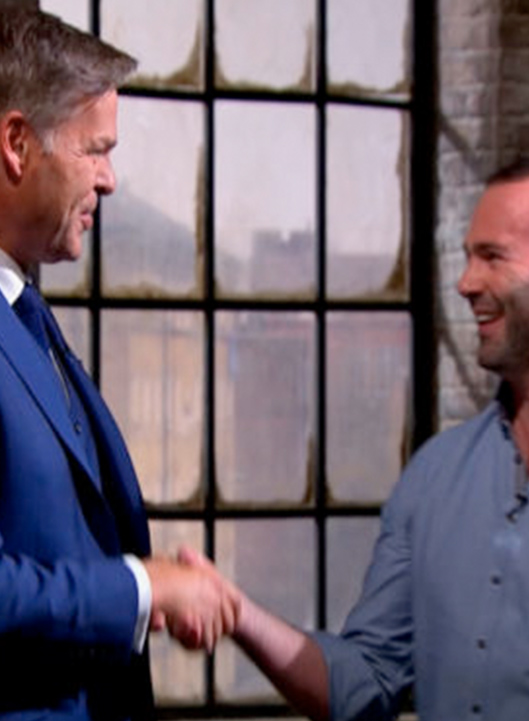 Chapter 5
Dragon's Den
On the 19th February 2018 Stuart appeared on BBC2's Dragons Den, in hope of seeking a sizable investment to help finance his expansion plans, but sharing the Estate was not in Stuart's grand plan.
Stuart was invited to pitch his business to the Dragons. There he was offered an investment by not one, but two dragons. One of the newest dragons, Jenny Campbell was the first to make an offer for 12%. Business tycoon Peter Jones then offered £80,000 for 10% equity, which Stuart accepted on air.
Initially, all ideas were aligned, however, after careful consideartion, Stuart had a different vision for the House of Elrick. He turned his gaze towards crowdfunding to help finance his expansion plans and is grateful to each a every investor.
"It was a bizarre experience pitching in front of the Dragons," explained Stuart. "There were five businesses vying for investment that day and I was the last – I think the Dragons were all pleased to see me with my bottles of gin!
"I am so delighted they loved the product enough to invest – I was quite overwhelmed with the response. But ultimately, it wasn't the right decision for me or the brand."
Once the cameras stopped rolling, Stuart deliberated the offer and decided to walk away. "It took a lot to turn down such an investment, especially from someone as renowned as Peter Jones,"
Peter did see great potential in expanding the brand and that's something Stuart has been working towards ever since!